Ski Area Sells Again…Will The Third Time Be The Charm??
Market Summary: April 9 – April 23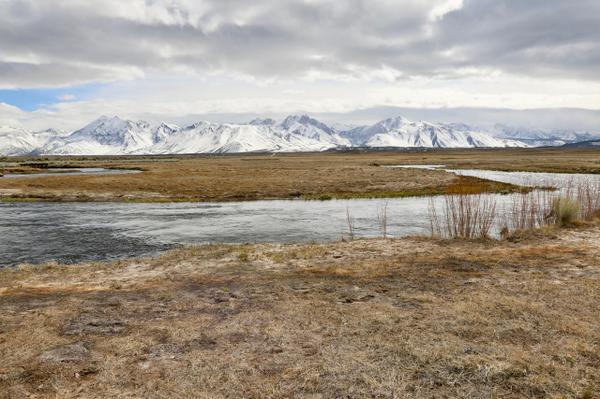 The Mammoth MLS is reporting 18 real estate closings in Mammoth Lakes for the period ranging from a low of $200,000 to a high of $839,000. Of the 18 closings all 18 were financeable properties
and 13 were conventionally financed. Seven of the 18 sales were condos listed under $400,000. With the 10-Year Treasury down in the 2.2% range the 30-year mortgage rate has dipped below 4.0% again.
Condominium Inventory
At the period's end the condominium inventory is up four (4) to 97. There were 15 new condos brought to the market during the period. They are all essentially new to the market and throughout the spectrum of size, location, quality, etc.
Single Family Inventory
The inventory of single-family homes is down three (3) to 32.  There are two (2) homes listed under $500,000 and one is a REO/auction.com property and one is a junker REO house in the "Ghetto" listed at land value. There are a total of seven homes listed under $725,000.
Pending Transactions
The total number of properties in "pending" (under contract) in Mammoth Lakes is up one (1) to 68 at period's end.  Of the 68 properties in "pending," there are 51 in "Active Under Contract" status (formerly "back-up").  The total number of pendings in the aggregate Mammoth MLS (which includes outlying areas) is up seven (7) for the period at 113….So based on these statistics the announcement of the Mammoth Resorts "sale" some 11 days ago has had a neutral effect on the local real estate market. So far. Most are trying to wrap their minds around what is happening.
Market Updates and News
The weather and skiing was all over the board during the period. Precipitation events produced rain in town and snow on the Mountain. The annual snow total pushed over 600″ on MMSA and there was a variety of winter snow, incredible wind-blown snow and delightful spring skiing (until it got too sticky). Most local residents are ready for summer. But if you go skiing, odds are you want to go again the next day. The coverage is amazing.   
Okay, so I know many of my readers are waiting for my take on the sale of Mammoth Resorts. I have intimate and different knowledge of the last two events; sales to Intrawest in 1996 and Starwood Capital in 2005. And there is no doubt that Vail Resorts has been chasing a deal for some time; Mammoth Mountain and the loyal skier following is a profound chunk of the North American ski industry (it was announced this past week that they have sold 40,000 ski passes for next year) .
Long-time local residents and business people also know that when Rusty Gregory starts talking about deals and finance it is imperative to pull out your bullshit detector and turn it on high. This time is no different. Rusty did his best "aw shucks" and "woe is me" act at last Monday night's presentation to the community. It was likely the beginning of a thousands steps towards what will likely be an IPO on Wall St.. I'm betting he is practicing his sales pitch every day. This has become a high-stakes game. 
The press releases have flowed through the system and some of the industry media have chimed in, so I don't need to cover those details. The real question is; Will this be good or bad for Mammoth and will it create some sort of move away from the "Mammoth Malaise" we have experienced the past 10 years? All I can say is that it may be our best chance.
I don't see the whole process as a traditional "sale." Benjamin Franklin captured it when he said "we must all hang together or most assuredly we will all hang separately."  This new consortium of resorts all sit outside the publicly-held juggernaut known as Vail Resorts. Vail's Epic Pass following now exceeds 650,000. Do some simple math; that's ~$500,000,000 in ski pass revenue alone. Their stock price is at an all-time high. These resorts that make up the new consortium are getting their butts kicked by Vail. And some are also loaded with crushing debt.
So the solution is quite simple; imitate success!!  Bundle it all together, hype the hell out of it, and sell 40M shares to the public. And obviously the deal has been in the works for some time. Rusty spoke of the $100M he had to play with last June. He hadn't spoke much about it until last Monday night. The whole thing really came together with the group being able to purchase the Intrawest assets that were languishing around the investment world. The Mammoth "sale" announcement came only two days after the Intrawest announcement.
And since we live in this new "Art of the Deal" era, I would think Rusty is a big player at the table. Look at the leverage he had to get in. If he sells Mammoth to Vail Resorts (they were trying) then the rest of them are dog meat. Mammoth (and the customer base) is what puts the deal over the top. Rusty probably has the greatest to gain. I hope someone is watching the Mammoth farm while he swings for the fences. Now the people of Mammoth need to make sure we benefit from all of it too.
Meanwhile, the man on the street is fearful that lift tickets prices will go up. But the season passes that will ultimately be offered will compete with Vail's Epic Pass. Competition is good. The prices may actually come down. The market price will be found. And for die-hards, consider that for the price of about a dozen walk-up lift tickets at Mammoth somebody could own both passes.
And Rusty has assured us that with the "sale" there will be an "acceleration of capital investment" in Mammoth. The caveat is that the community has to make some investment too. But he hasn't asked for anything specific, yet. Except he wants revised Floor Area Ratio guidelines in Mammoth's commercial district. This real estate column was written before the  "sale" announcement. All of it still applies. The demographics are compelling. The risks are the same. But a publicly held company can spread the risk. Vail has proven that. 
Mammoth has already been through the private equity template of heavy debt and cost cutting. A publicly-held company model might be refreshing. Rusty was quoted as saying that the other parties of the to-be-named consortium considered Mammoth to be "the biggest growth opportunity in the United Sates." Ironically, we heard the same thing in 1996 and 2005. The third time needs to be the charm. Otherwise, Mammoth will just remain "Hicksville" as one long-time local said of the new prospects.
Ultimately, the risk of drought and other resort calamities are ideally spread over a larger geographic and demographic mix of resorts. That is why the Vail model works so well. This new consortium promises that each resort will maintain their "own character" rather than the "homogenized" style of Vail Resorts. They probably see the limitations in trying to Aspenize Mammoth, or Big Bear. They also said they are likely to attempt purchasing other resorts to make part of the group. There are a few plums left like Sun Valley, Jackson Hole and Mt. Bachelor. The pressure to compete and eventually sell will be significant. Just one of those resorts would bring the new consortium to a level playing field with Vail.
 It will take five to six months to get all of the organizational and legal work completed. Then there will be a new entity and Mammoth Resorts will be part of it. Just seeing what they name it should be good entertainment. It will be business as usual in the meantime. Historically these "sale" announcements have had very different impacts on the local market. In 1996 it took three to four years for the Mammoth real estate market to see any significant rise in values. In 2005 it was a rush of transactions and 10-20% or more appreciation over the next 12 months. Upon the recent announcement, one local broker was quoted as saying the "market could increase by as much as 40%". We'll see.
 Right now it is all a big "say tuned." 
Noteworthy Sales
​​​​​​​  
Some of the condo sales of the period have clearly benchmarked some new highs in certain projects. The projects include Mammoth Green, Sunstone, Crestview and Heritage. A handful of other sales show softening in other areas of the market. There is no clear trend.
Three properties closed that have had thousands of days on the market (DOM) in the past 10 years. They include a duplex on Joaquin that I remember my company having the listing (same seller) some 11 years ago. It finally sold. Also, an Eagle Run unit that has been on the market hundreds of days under two different owners. And a home in the Slopes with a bizarre floorplan that was originally marketed in the ~$800,000 range and eventually sold for $595,000.
A house "flip" on Twin Lakes Lane closed for $520,000. I remember doing a property evaluation on this house some 20 years ago. It was basically abandoned and in a serious state of disrepair back then. It was some kind of estate issue/snafu. It has been an eyesore for all of those years. Now it is all cleaned up and remodeled and has a new owner. I'm sure the neighbors are happy. 
---
New Favorite Listing For The Period!!
  There aren't too many 1- bedroom units in Snowcreek. They are only in phases 1, 2,and 3 and even then they didn't 
build too many of them. This is the most affordable way to become a Snowcreek owner. The 1-bedroom units are a pleasant floorplan with an extra bunk/office area and they have washer/dryer hook-ups. The bedroom has two ample closets with mirrored doors. The kitchen and bar areas are about the most spacious you will find in any 1-bedroom floorplan in Mammoth. The dining area flows out to decks.
​​​​​​​   This unit happens to be Snowcreek #259 so it is located in Phase II. It was just listed at $280,000. There are some things I especially like about this specific property. First it has an expansive view of the Sherwin Range, Mammoth Pass and Mammoth Mountain. And the ground floor deck flows out into a sunny landscaped area that is perfect for hanging out. There is also a unique small brook that runs adjacent to the property that is quite pleasant in the non-winter months. Great setting.
Listing courtesy Coldwell Banker Mammoth Real Estate
---
Other Real Estate News
Plenty of spotlights are being directed to the subject of workforce housing in Mammoth Lakes. Available housing has been extremely tight the past 12 months. Many employers have stated that they have attractive candidates to hire but the candidates can't find adequate housing. And any expansion of the Ski Area operations or hospitality operation will certainly require more employee housing. 
Mammoth Lakes Housing is working on an updated Community Housing Action Plan. I've been sitting on the working group. The dynamics have changed dramatically since the last Plan was completed in 2011. Back then the real estate market crash created significant opportunity to purchase in the town. But local residents were broke or couldn't qualify. Today the local residents are in much better financial shape but the bottom end of the real estate market has been cleaned out. The inventory of decent and affordable properties is almost nil. It is unfortunate timing for those local residents who would like to own.
In the meantime, the government sponsored programs are lacking funding and there is a shortage of land too. It is a problem that the new owners of Mammoth Resorts are going to be involved with. If you read my latest Q&A (linked above) you will see that the hotel-type properties are in a real predicament for future development. Condo hotel development and pure hotel (one owner) are both in the high-risk category in mountain resorts. Future projects will be limited. But someone (new ownership?) is going to have to take the risk.
But the properties at the Main Lodge, the Village periphery, Eagle Base, etc. may eventually have more workforce housing incorporated into them. More than ever envisioned. And then there is the 24 acres at Shady Rest that is zoned for Affordable housing. It is yet to be seen how that will be utilized.
There is certainly no immediate 
solution. Last week I had a meeting with one of Mammoth's largest apartment owners. I sold him his first building some 26 years ago. He knows the market as well as anyone. He has always been conservative and clearly understands that vacancies are the biggest landlord expense in Mammoth. I asked him where rents are right now. He said that rents are up slightly but they are pushing to the point where locals residents can't afford them.
I'm supportive of the drive to attract the tech industry to Mammoth. But what happens if a bunch of young tech engineers with good salaries want to make Mammoth home?? They will push out the regular service workers the town desperately needs. Has the Ski Area thought this through? 
Again, this is a problem the new owners of Mammoth Resorts will be compelled to deal with. Hopefully they have large sacks of money…. 
 ….And the new police station construction isn't going very well. They were originally expecting to be moving in around June. Good luck. The basic roof construction has to be re-bid and re-built. Between the brutal winter and some apparent sub-contractor bungling, it is screwed up. The problem is none of the other interior work like electrical, etc. can be completed until the roof is right. And these Town people want us to be confident they can supervise a $10M ice rink construction job?? 
I'll be back in three weeks.