From Fresh Winter Snow to Large Piles of Brown Snow….Spring Is Here!!
Market Summary: February 27 – March 12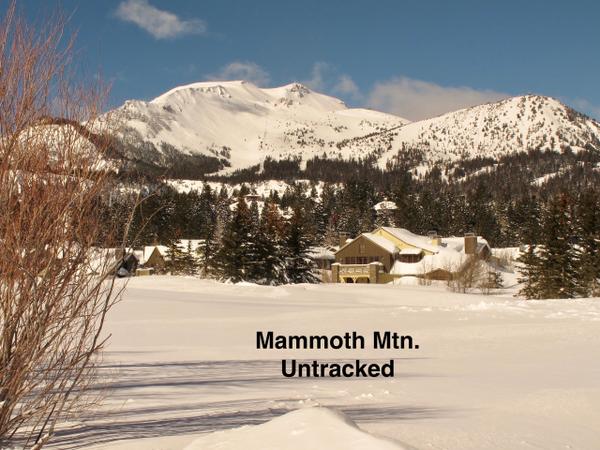 The Mammoth MLS is reporting 15 real estate closings in Mammoth Lakes for the period ranging from a low of $265,000 to a high of $1,295,000. Of the 15 closings all were financeable properties and nine (9) were conventionally financed. Seven of the 15  sales were condos selling under $410,000. There were four more quick closings (and cash purchases) of ~20 days or less. There was one REO/bank owned property closing.
Condominium Inventory
At the period's end the condominium inventory is down another five (5) to 89. There were 16 new condos brought to the market during the period. Two of the new listings have already gone to escrow. There are now only four condos listed for sale under $250,000. 
Single Family Inventory
The inventory of single-family homes is up one (1) to 38.  There are no homes listed under $500,000 and still only five (5) homes listed under $600,000.
Pending Transactions
The total number of properties in "pending" (under contract) in Mammoth Lakes is up six (6) to 66 at period's end.  Of the 66 properties in "pending," there are 51 in the new "Active Under Contract" status (formerly "back-up").  The total number of pendings in the aggregate Mammoth MLS (which includes outlying areas) is up 13 for the period at 89. 
Market Updates and News
During the period the Mammoth real estate market, like the Mammoth weather, was all over the board. Some sellers have pulled away from the market believing there are better times (higher prices) ahead. Others are getting into the market believing the snow will trigger a rash of sales. Both might be right. Both might be wrong. Many sellers think the values should be back to 2006 values (or they are looking at Zestimates).  And many buyers see "value" but are cautious because of so many macro-economic concerns.
A long-standing (and second generation) Mammoth appraiser said he was having to use the pending property sales as the comparable sales to justify the higher prices of some sales he is appraising (wasn't Dodd Frank and all of the new regulations suppose to curtail this type of activity?). So the heavy winter has clearly sparked some higher sales. And yet many good properties remain on the market unsold with pressure to reduce prices….The market right now is a plain crapshoot.
In classic Mammoth form the ski conditions went from great winter powder conditions, to super winter windblown, to warm spring conditions with hard and fast runs…all in the last two weeks! The 15-day forecast calls for more warm weather with some potential snow later in the period.
 The break in the weather is more than welcome. In the past two days the parade of trucks hauling snow out of town has subsided. Roofs are still being cautiously shoveled. The snowpack is settling and melting in the warm weather. But much of the town is still buried. Some of the immediate property damage is being addressed. Some of it will have to wait. The downtown apartment building that had to be evacuated because the roof separated will be rebuilt. The haz-mat team is already there doing demolition. 
 I made a call to one of Mammoth's largest general contractor's who has completed a substantial amount of insurance work in the past 35 years and the phone answered, "Hello, goodbye, and good luck." That was somewhat telling. But I also met with some young contractors who are eagerly picking up the work. They will move from roof shoveling to repairs in the next week.
 The Mammoth Lakes (Parks and) Recreation Commission heard a presentation about the status the Ice Rink/MUF last week. They came to the conclusion that they "wanted to see the project done in a manner befitting a world class destination, rather than as cheaply and quickly as possible."
 The Town staff reduced the "big hit" of the proposed nearly $11 million estimated price tag for the facility by delaying the construction of things like additional parking, locker rooms, and utilizing shipping containers as temporary facilities (is that part of the Draft EIR visual impacts?). The bare bones "shipping container" enhanced project estimates are roughly $6.5 million. 
Meanwhile, the players are now figuring out that this massive type of expense (both upfront and ongoing) will displace monies going to other projects and programs in town. "Very clearly this is not the only project in town" is the quote from Councilman Wentworth. Wow, after 18 months he finally figured this out. 
Last night was the soft opening for the "Techreation" facility in the Sierra Center mall. In conjunction with the event there was a Tesla open house and opportunity to test drive Tesla vehicles all week. The Tesla people gave a presentation at the event and said they had over 100 test drives during the week. They considered it to be highly successful. The Techreation facility has a smaller, similar facility in the Main Lodge at the Mountain. There are daily, monthly, and annual fees for using the facilities and season pass holders are offered usage at a rate similar to the cost of a season locker.
 Several speakers gave brief talks but the overall theme was that this is the first step in what is hoped to be a progression. The "ladder of loyalty" begins here with an open workspace for varied collaboration that should evolve into mini-tech campuses for various tech companies (there is already one) and eventually larger tech company work spaces in the community. The primary backers including MMSA hope that this will spearhead the downtown revitalization. Ultimately this is all driven by the incredible Internet bandwidth now available in Mammoth. This facility is offering gigabyte level service.

 If this concept proceeds in the next five to ten years it could have a profound impact on commercial property occupancies, and an even greater affect on real estate demand, especially in the low end of the market. 
​​​​​​​ The California Assoc. of Realtors alerted us that CA Assembly Bill 71 is proposing to eliminate the mortgage interest deduction for second homes. The proposed offset would help fund an increase in low-income housing tax credits. CAR will certainly be fighting this. But how would this affect Mammoth?? The interest mortgage deduction is already limited at $1,000,000. And many of Mammoth's affluent purchases are cash. And a significant volume of buyers the last few years are focused on developing rental incomes in their properties, so no interest deduction is in play. The percentage of Mammoth second homeowners who are actually using the mortgage interest deduction might be lower than we think. And for those who could potentially lose the deduction, it might push them into converting to nightly rentals. It has become big business. 
  …And skiing the last few weeks I've come to realize that many new skiers and snowboarders simply aren't attentive to old #4 of the Skier's Responsibility Code. "Whenever starting down hill or merging into a trail, look uphill and yield to others." Seems the Ski Area is more interested in promoting the "15 feet of distance" than the Code. But the two don't work together. People don't look and take off into your fall-line and then they get upset. I even asked a MMSA liftie if he knew what #4 of the Code was. He said "huh?"  No wonder I like skiing on Wednesdays. 
Noteworthy Sales
 A non-REO 1-bedroom at Sunstone closed at $265,000. So for now values at Sunstone are tracking slightly higher than similar units at Juniper Springs Lodge.
Three bedroom units at the Village continue to sell well. A unit at Lincoln House just closed for slightly less than $1M.
A 2-bedroom / 2 bath at Mammoth Green closed for $410,000. Values are finally coming back after the litigation and residing. My research shows that the values at Mammoth Green dipped below 40% of their 2006 peak in the 2011-12 trough. This and other recent sales have brought the values back over 60% of the 2006 peak. And with the new siding and other project improvements, and renewed commitments to a hotel project in Sierra Star, it would seem the values could climb over the 70% range. Perhaps even in 2017.
The REO home on Wagon Wheel closed for $537,500. Despite being uninhabited for over four years (and buried in snow) it was able to qualify for new conventional financing. Amazing.
 Three Snowcreek condos closed in the period. Currently there are only 12 units for sale in the entire Snowcreek property including The Lodges.
---
New Favorite Listing For The Period!!
  This isn't for 
everybody but this is about a cool location, some Mammoth "history," and charm. And for those who don't want a condo. These older 1970's properties are very popular with younger generation. They seem to think good Formica is hip. But this gambrel style home is well built and well maintained. It has brand new carpet throughout and new TREX decking. The 3 bedroom / 2 bath floorpan features all of the bedrooms downstairs and a large great room upstairs. Downstairs is a valuable utility room that has side-by-side washer and dryer and room for storage or work bench/ski tuning bench. The home has a large south facing deck. The property will need a new freestanding wood stove or pellet stove.
   The property backs up to Camp High Sierra. This Camp is now leased and operated by Mammoth Mountain. And the plan is to build a beginner chairlift up into this area as the Eagle Base improvements go in. The proposed lift isn't too close to the property but this should give even better ski access to the property in the future.
   This was a For Sale By Owner the past couple of summers at a much higher price. Now it is listed at $575,000.
Listing courtesy of Donna Lisa Knowles, Coldwell Banker Mammoth Real Estate
Other Real Estate News
 For the record, a "home flip" is when a property is sold for a second time in a 12-month period in an "arms-length" transaction.
The Los Angeles metro area has six of the 39 counties nationwide where more than 20 percent of the transactions in 2016 were flips. The majority of the flips are in the low end (~$200,000) of the market where the barrier to entry is low. The ultimate buyers are modest income people who can afford to purchase but cannot afford major repairs.
As for Mammoth, flipping activity remains at a minimum. The low-end of the market has few opportunities. There were a dozen or so flipping attempts coming out of the last foreclosure phase but the economics are tough — the cost of remodeling in Mammoth is higher based on labor and material. And there isn't the volume of opportunities. And there are plenty of fix-up ready buyers looking for their own place that keep the values up. And the majority of these buyers can afford major repairs. And if there was money to be made, the local contractors would be in the game…..
An article in last week's Fortune magazine highlighted what might be the repeat (of sorts) of a market cycle that impacted Mammoth in the 1960's and 70's. The article titled "Rocket Boom In The Desert" describes how Mojave (yes, on Hwy. 14 where it has been rumored for years that visitors to Mammoth leave their brains) is becoming the hub for "New Space" companies. Space is being called the next frontier of commerce. And there is a cluster of 17 new companies at the Mojave Air and Space Port.
 Mojave is being called the "Silicon valley of space exploration." Not only are the facilities already there but nobody seems to care about the "detonation and flames" that are common occurrence. And "micro satellites" and "nano satellites" (under 22 pounds) are becoming big business. Venture capitalists have invested over $8 billion dollars into these companies in the past five years.
 So what does this have to do with Mammoth. Well, assuming these companies are employing relatively young and well paid engineers who like to have fun and recreate, they will certainly become bored and hot at some point and the Mammoth region will certainly become attractive. It is only a few hours away. 
But historically there was a large contingent of aeronautical engineers who were attracted to Mammoth in the 60's and 70's. They worked for the many aircraft related companies that were based in Southern California. Many built there own homes in Mammoth. Some of the funkiest and hodgepodge old homes that still stand in Mammoth were built (and added-on-to) by these engineers. They have quite a legacy. It is part of Mammoth's real estate history that is fading away as many of these family properties are sold off.
One of the aeronautical engineers who came and never left was the late George Fowler of Coldwell Banker Mammoth Real Estate fame.         
Thanks for reading!